A Huge Congratulations to France in winning the Russia 2018 World Cup on Sunday 15th July.  The final was exceptional, full of excitement, drama and goals, one of the best football games of the tournament.
Here are some facts from the game:
France stormed to Victory in the FIFA World Cup Final winning 4 -2.
There was a four person pitch invasion from the Russian Group @PussyRiot where even Mbappe high fived one of the members.
Vladimir Putin stole the show at the end, when we stood in the rain with an Umbrella, whilst everyone else got wet 🙂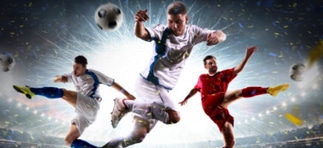 There were 26 fowls by both teams, with 13 from each side.
Croatia had 6 Corners and France had 2.
Croatia had 14 shots, whilst France only had 6.
Croatia had 66% Possession, with France holding only 34%.
In Paris, under the Eiffel tower there were over 90,000 fans watching the game on a huge screen, what a moment that must have been.
The casino football mobile table roulette has been available throughout the world cup 2018 tournament.
The goal scorers for France were: Mandzukic with an own goal 🙁 – Griezmann, Pogba and Mbappe
The scorers for Croatia were Perisic and Mandzukic.
There were only 3 Yellow Cards Issued.
And the Attendance in the Stadiun was 78,011
Here are some other interesting facts and awards related to the FIFA World Cup:
The FA Fair Play Trophy went to Spain.
Luka Modric was named the Adidas Golden Ball Award Winner
Thibaut Courtois won the Adidas Golden Glove Award.
Kylian Mbappe won the FIFA Young Player Award.
Eden Hazard won the Adidas Silver Ball Award
With the Bronze Award going to Antoine Griezmann.
The Adidas Golden BOOT award went to Harry Kane.
The Bronze went to Romelu Lukaku