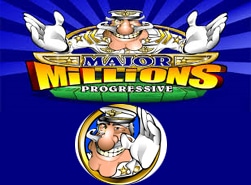 Major Millions
Home / Games / Major Millions
Experience the Major Millions military slot game today at Casino Football. This amazing slot game will blow your mind, with its whacky images and sounds not to mention the game play.
If you enjoy playing games that are complex, military themed and dangerously exciting, then Major Millions is definitely for you. This five reel progressive jackpot game turns a slot game into a live adventure game. The attention to detail within the game is extraordinary and quite exceptional, one of the finest of added in 2018.
There are some great symbols, such as The Major, Ships, Tanks, Planes, Medals, Binoculars and Top Secret letters. The scatter symbols offer more excitement, these are added to the payline wins and are calculated as follows:
Three Scatters = 3X Value
4 Scatters = 10X Value
5 Scatters = 50 X Value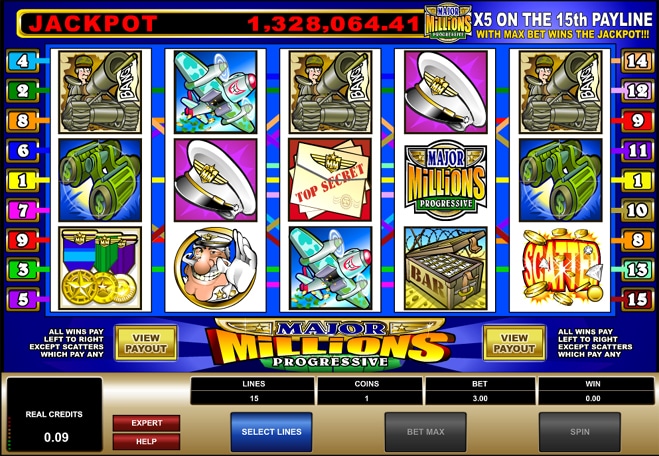 More About Major Millions
As with all slot machine games, malfunction and changes to the games pay tables can affect the pay out value. The Major Millions symbol offers substitutes for all symbols, with the exception of the scatter symbol. This progressive Jackpot can be won when all Five "Major Millions" symbols line up on the 15th Pay line with the maximum bet. Why not play Thunderstruck slots as well, another fantastic game in our arsenal.
The game offers a real change to your typical slot game, with an unusual collection of symbols and features. As with all progressive jackpot games, we always recommend you review the latest Jackpot Total, as it changes second by second. As at 4pm on the 10th December 2018, it stands at a Whopping £1.3 Million pounds.
This game will be one of our most played games in 2019, especially due to its unique game play.If you would like to try a game that will blow your mind, then the Major Millions slot game is perfect for you. This game is available to play on your mobile, tablet or computer device.