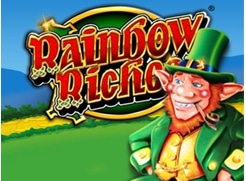 Rainbow Riches
Home / Games / Rainbow Riches
Rainbow Riches is an Irish themed slot machine game that offers some pretty impressive winning combinations.
The theme of the game is the Leprechaun feature that appears both on the Reels and as the main Icon. The game sports 5 Reels and 10 Paylines with the option of betting 10p per spin and £400 maximum. The reels host Wishing Wells, Pot of Gold, Rainbows, Playing Cards & of course the Irish Leprechaun. The winning combinations and bonuses are awesome and well worth there weight in gold, Pardon the Pun.
The best possible winning combination is the "Complete Reel Coverage" of the Rainbow Riches Logo. This will award the lucky player 4000 Times the wager placed. The Road to Riches bonus feature offers the chance to win up to 500 Times the wager. The more you spin, the better chance you have of winning.
The other fantastic feature is The Wishing Well bonus.  This is awarded when you are lucky enough to have three or more Wishing Well Logos appear on the Reels. This will trigger the award for players automatically. All you have to do is close your eyes and pick one of the Wishing Wells, then the prize is revealed. There are slight variations to these bonus awards, such as the 3, 4 or 5 scatter symbols. The Mobile Casino Football team highly rate this game, and award it a massive 10 out of 10.
The Pots of Gold feature is a Whopper and is by far the most difficult to be awarded. All three of the Pots of Gold symbols need to land on the Centre Reels (2-4). The bonus award itself provides a mixture of multipliers of up to 50 times your wager, and can yield a great prize fund. There is a Gamble your winnings feature, for those of you that like to take chance on your luck.
If you are looking for a fun packed and impressive slot game then Rainbow Riches should be your first choice of slot game to play.
Advanced Features of The Rainbow Riches Game:
The term "Wild" excludes Wishing Well, Pots of Gold and the Roads to Riches. To Win per line, these must match the left to right game play options. In order to win the Pots of Gold feature, please see Reels 2-4. Please review the in-game rules and terms of play.