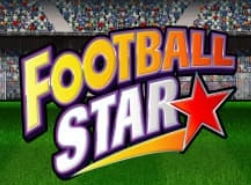 Football Star Slots
Home / Games / Football Star Slots
The Football Star slot game is now available to play and enjoy at Casino Football.
The game has been produced by Microgaming and has all aspects of football graphics and sounds included. The game itself sports five reels and hosts over 242 different ways in which you can win. The "Tumbling Style Reels" is a fantastic feature, which offers more chances to win per spin.
In terms of the wager, the lowest amount is fifty pence, which makes this classic game very affordable. The extra reel type is the "Star" image which offers a "Wild" match up, ensuring extra fun.This game offers up to Twenty Five free spins of the reel, when three scatter images appear.
The sheer volume of winning combinations makes this game super enjoyable. As with most slot games, there is a Return to Player percentage, which is reported at 99.4%. If you love sport and football in particular, then you will absolutely adore this game.
Sit back, grab your mobile phone or computer and play the Football Star slots today!