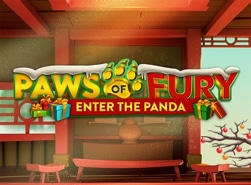 Paws of Fury
Home / Games / Paws of Fury
Paws of Fury is a brand new slot game developed by Blueprint Gaming Ltd. The game is themed on a panda who loves Kung Fu, just like the popular movie.
The slot game hosts five reels and 20 pay lines, along with some impressive special features. The game is classed as a "Jackpot" game as the prize fund is linked up to a host of other casinos who share the pot. These types of progressive jackpots offer amazing cash prizes, that are on a par with Vegas itself. The general wager offers a minimum bet of 20 pence and a maximum of £100 each spin.
The reel symbols are nicely themed, with the usual playing card symbols, King, Queen, Jack etc. In addition there are symbols such as "Chopsticks", Ninja Cat, Book, Dumplings Monastery and the special POF logo.The playing cards offer up to 50 – 100 times your wager which is good on its own.
There are three types of extra bonus on offer, the Wild Bonus, Scatter Bonus and the Panda Bonus. The Wild Bonus is triggered when the golden paw appears, when it replaces the reels. This feature operates over five reels and swaps images with the exception of the panda icon. The Scatter Bonus is triggered when the panda face appears on three of the reels. There are five individual bonuses, one of them will be allocated within the feature. Wins such as free spins, multiplier, cash prizes and special wilds are available.
Extra Bonus Features for the Paws of Fury Game:
The Panda Bonus offers five prizes, whereby one will be randomly selected for you.
These prizes range from the Golden Spin, Mind Trick, Eye of Panda, Pandamonium Wild and Belly Smash. A great variety of features are jammed into this awesome slot game, giving it a 5 Star rating. Other special features are available too such as the Feature Gamble. This allows players to gamble winnings, with the exception of the Big Money Bonus feature. Other great games such as the Wild Scarabs slot are also great fun to play.
There are other bonuses such as the Win Sum Dough bonus, which is activated only during the bonus awards. The Journey of the Panda bonus is also available during the bonus awards as well as the Rise of the Panda free spins bonus. There are lots of ways to win on this slot game, making it an exciting and enjoyable game.
If you liked Kung Fu Panda the movie, then you will LOVE the Paws of Fury slot machine game.