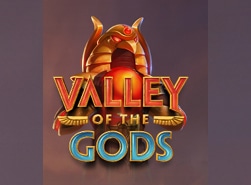 Valley Of The Gods
Home / Games / Valley Of The Gods
The Valley of the Gods slot game has just been added to the Casino Football game portfolio.
The Egyptian themed games have taken off with gamers, so we thought we would add another to enjoy. This game supports 5 Reels with 5 rows and a huge 3125 ways & 45 combinations that you can win.
The general playability is impressive along with the fantastic sounds and themed graphics. The main special win feature is the Golden Scarabs, in which they interact with 12 Blockers. Players can increase the winning combinations, as the blockers are being destroyed, one scarab takes away one blocker.
There are also win multipliers too, when no blockers remain in the game, blue scarabs will activate the "Win Multiplier" feature. As the blue scarabs appear, the multiplier sequence increases, making this game really take off!
This game also features the "Extra Life" option, that is triggered with the red scarabs. In short, extra lives will keep the "Respin" bonus alive, even if you don't have a win in the "Respin" feature.
The game developer Yggdrasil have made a wonderful addition to our Egyptian game collection, with fantastic Hieroglyph imagery. The general game play is simple to understand and offers some real fun and excitement to the world.
Why not take a break from everyday life and join in the fun with the Valley of the Gods slot game today!