The Champions Slot
Home / Games / The Champions Slot
We're proud to announce that The Champions football slot game has just been added to Mobile Casino Football. This simple but yet customizable slot game, offers an International football fan a tailored experience.
Upon launching the slot game, a menu appears offering players the choice of country they want to use. This neat little feature really is a nice touch, making this slot game really stand out. The sounds and general game effects are simple but yet really effective, a really pleasurable experience.
There are Five Reels in this game, and the option to use the Auto Play feature is very useful. The Momentum Progressive game is something very special, and really does bring this game to life. The basic element is to score goals, which in turn allow you to increase momentum and the multiplier for the wins. You score goals by selecting a cell on the reels and pressing a football symbol in the right spot.
There are 11 Levels to experience within this progressive feature, offering lucky players up to a 20X Multiplier bonus. We have added below a handy chart showing how the bonus works.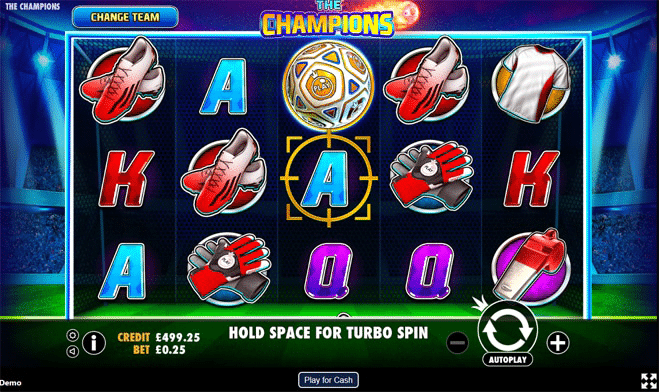 All in all this football game is probably the easiest to play and packs a very impressive Progressive scoring bonus. There is also a Penalty Shots bonus game, this is triggered by the Square "Bonus" image appears on Reel two, three and four. Why not also check out our Football Star slot game, another great addition to our game portfolio.
Even if you don't like Football, you will still thoroughly enjoy the excitement that The Champions slot game has to offer.