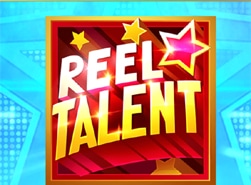 Reel Talent
Home / Games / Reel Talent
Reel Talent slots is now available to play at Casino Football.
Themed on a classic Talent Show this game offers something slightly different to the world of online & mobile slots.  Sporting Five reels and offering 20 pay lines, this slot game is pretty easy to operate.
There are some pretty cool features built into the game too. Firstly there is the symbol storage game feature, that really gets the fun started.  If one or more lines create a win then the winning symbol for each line is added to a special column.  When all three symbols appear in the storage column, they activate the "Super Spin" award feature. The game has been very well designed and thought out, most especially the vibrant colours and cool music.
During the Superspin feature, only the symbol types collected in the symbol storage column are on the reels.  Within the game there are variations to the Superspin, mainly based on the symbols collected within the feature. Firstly there are three stages to this award, Show Time, Big Stage and Solo Performance. There are some quirky symbol characters, from a Lion singing, Wolf on Guitar and a Rabbit playing cards.  The usual matching of symbols triggers the slot machine awards within the game. We have some great games such as Rainbow Riches, Football Star and Divine Fortune to enjoy at Casino Football.
The Re-spin feature also works within the symbol storage award,  this carries on until there is no win awarded.  The standard Wild symbols work on this slot game also, substituting symbols to increase winning options. All in all, this is a fantastic game that offers something unique and pretty cool to the gaming community.
Sit back, clear your throat and get ready for the Reel Talent slot game at Casino Football today.