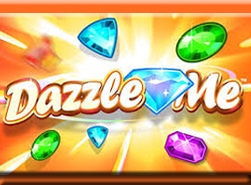 Take a look at the New Dazzle Me slot game that has just been added to the Casino Football portfolio of games.
This slot game offers something a little unique in terms of layout and pay lines. In total there are seventy six bet lines and five reels on display in unusual column structures. The first two reels contain 3 symbols the next two reels contain 4 symbols with the final two columns hosting five symbols each. It is a one of kind slot game that has a retro feel with its unique Reel Architecture.
One of the features is the Dazzling Wild Reels, these randomly appear within the core game as an overlay reel with only Wild Symbols showing. The Blue Diamond symbol represents the Dazzle Wild Feature, making it easy to recognize during game play. One to five reels can turn into dazzling reels, so keep your eye on this during game play.
The Wild Symbols replace all symbols with the exclusion of the Free Spin symbols. Symbols within this game include the Red Seven, Golden Bell, Colored Jewels and of course the Blue Diamond / Sapphire. The symbols on the reels are nicely presented with a simplistic backdrop image that blends in perfectly.
This particular online Slot machine game is a product of NetEnt. The game has very simple graphics and bright colors which sooth your eyes, and allows you playing for a longer time. It has unique layout of reels. There are total five reels arranged in variable columns, and these columns have three to five variable rows.
More Dazzle Me Game Information
Dazzle Me slot game has total 76 betting lines. There are three symbols each in first two reels, third and forth reel have four symbols each and last reel contains five symbols. To start betting, you will have to fix the bet to an appropriate value according to your budget. To do that you need to adjust the coin value and bet level. The slot game has total 10 bet levels for all 20 coins.
The Dazzle Me game is suitable for both low-budget and high-budget players. Betting can be from €0.20 to €200 on Dazzle Me. If you learn and identify all the symbols of the slot game, you can master the game. The game has some high value signs like red seven and golden bells while colored gems have low value. Diamond crystal triggers the wild feature of the slot.
There are some symbols which are responsible for free spin feature of the game. This online slot machine is cherished by most of the players, and it's a must available slot game in online casinos.