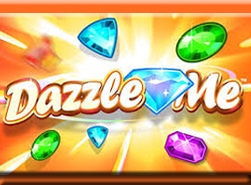 Take a look at the New Dazzle Me slot game that has just been added to the Casino Football portfolio of games.
This slot game offers something a little unique in terms of layout and pay lines. In total there are seventy six bet lines and five reels on display in unusual column structures. The first two reels contain 3 symbols the next two reels contain 4 symbols with the final two columns hosting five symbols each. It is a one of kind slot game that has a retro feel with its unique Reel Architecture.
One of the features is the Dazzling Wild Reels, these randomly appear within the core game as an overlay reel with only Wild Symbols showing. The Blue Diamond symbol represents the Dazzle Wild Feature, making it easy to recognize during game play. One to five reels can turn into dazzling reels, so keep your eye on this during game play. The Wild Symbols replace all symbols with the exclusion of the Free Spin symbols. Symbols within this game include the Red Seven, Golden Bell, Coloured Jewels and of course the Blue Diamond / Sapphire. The symbols on the reels are nicely presented with a simplistic backdrop image that blends in perfectly.