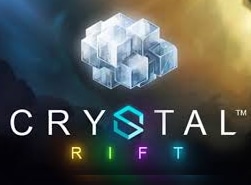 Home / Games / Crystal Rift Slots
Crystal Rift is a space themed new game to arrive at Casino Football.
The slot features five reels and 25 pay lines and some interesting bonus play options.  The sound effects on this game are very unusual and feel outer space themed.  If you like games with hidden and mysterious features, then this game will be perfect for you.
The Wild symbol is represented by an Ice Crystal which triggers when in view.  The game is very similar to the popular Da Vinci Diamonds slot game, as it also has tumbling style reels.  The winning combinations within this game are very expansive, be rest assured it is a great game.
The grid structure of the game is quite unusual with a total of five wild patterns to be seen.  The types of patterns are Insane, Super, Mega and the standard basic pattern.  When three wins in a row occur from the bonus fall feature, the Wild Grid Feature comes alive. In total there are twenty alternate ways that the grid can appear on the reels.  The play ability rating for this game is off the scale, as it is packed with functionality.
The gemstone images look fantastic in the game as well as the cascading effect.  Aesthetically Crystal Rift is themed within a cave style structure which creates a unique ambience.  This game really is something different compared to our standard slot games. Another feature is the Bonus Falls, this resembles cascading / tumbling reels. When a win appears, then winning symbols vanish and the reels tumble down. This can re-occur over and over, as long as wins appear each time. The return to player percentage has been reported as 96%, which is standard for this type of game.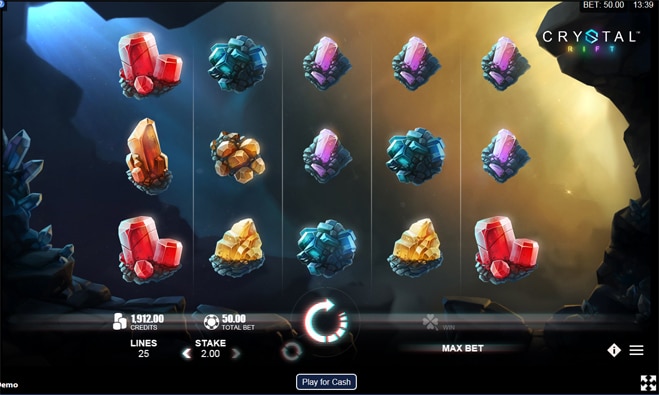 Crystal Rift Payout Chart
If you are looking for a cave themed adventure with a twist then the Crystal Rift slot game is well worth a play.  This game can be played for fun or for reel time betting, whatever you prefer.