Women's football has taken off at an electric pace over the past few years, with attendances increasing throughout the world leagues. The WSL was set up in April 2011 by the Football Association replacing the FA Women's Premier League.  The WSL is the top tier in English football, with various leagues below it.  The league consists at present of 11 teams, with confirmation that the 2019-2020 season hosting 12 teams.
In England there is the FA Women's Super League, which is on a par with the men's Premier League. The women's super league itself consists of 11 teams presently, we have listed the teams below. In addition we have listed them in order of the seasons table status, with Arsenal Women, winning the FA WSL.
Arsenal Women
Manchester City Women
Chelsea Women
Birmingham City Women
Reading Women
Bristol City Women
West Ham United Women
Liverpool Women
Brighton & Hove Albion Women
Everton Ladies
Yeovil Town Ladies
Since the league started Arsenal have won the trophy three times, with Liverpool and Chelsea winning it twice each.  Manchester City have won the WSL Trophy once to date.
The Top Goalscorer for the 2018 – 2019 season was Vivianne Miedema of Arsenal who scored a record breaking 22 goals. This was in addition to providing 10 assists and a shot accuracy of around 73%.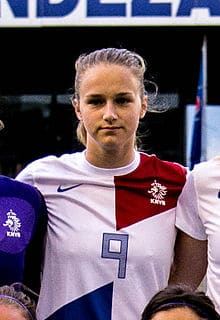 Born in Hoogeveen in the Netherlands, Vivianne was the youngest player to play in the Eredivisie Vrouwen.  In the 2013-2014 football season Vivianne scored 39 goals, winning the golden boot award.  Vivianne is without doubt one of the best Women's club players to have graced the pitches in England.
Nikita Parris who plays for Manchester City Women's team scored 19 goals in the same season as Vivianne, and on any other season would have won the Golden Boot.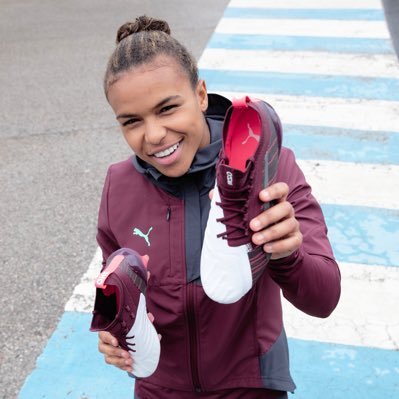 A fantastic rate of 62% shot accuracy was attained, along with 7 assists. Nikita also plays for her Country "England" and is without doubt one of the finest footballers in the UK.
The Ballon d'or winner for 2019 was Ada Hegerberg who plays for Lyon earns in the region of £340,000 per year.  In fact Lyon hold three out of the top five earning players in there squad, with Amandine Henry and Wendie Renard.
The UK Women's Leagues consist of:
FA Women's Super League
(See teams listed above)
FA Women's Championship
This consists of 11 teams, all listed below:
Manchester United Women
Tottenham Hotspur Ladies
Charlton Athletic Women FC
Durham Women's FC
Sheffield United Women FC
Aston Villa Ladies
Leicester City Women
London Bees
Lewes Women
Crystal Palace Ladies FC
Millwall Lionesses FC
The following Football Competitions are also run during the course of the football season:
SSE Women's FA Cup
FA Women's Continental League Cup
FA Girl's Youth Cup
The current ( June 2019) Women's Football team for England has been added below:
Karen Bardsley
Carly Telford
Mary Earps
Lucy Bronze
Alex Greenwood
Steph Houghton (captain)
Millie Bright
Demi Stokes
Leah Williamson
Abbie McManus
Rachel Daly
Keira Walsh
Jill Scott
Jade Moore
Georgia Stanway
Karen Carney
Lucy Staniforth
Nikita Parris
Jodie Taylor
Fran Kirby
Toni Duggan
Ellen White
Beth Mead
The Official Women's Senior team news can be found on the Official FA Website here.
Don't forget to checkout the new slot games Football Star and The Champions Slot ideal for football fans who enjoy football themes.
Check out our New Podcast / Audio file below:
The Casino Football team have scoured the worlds elite women's footballers and have added a list of our Top 20 players.
Toni Duggan
Barcelona
Pernille Harder
Wolfsburg
Sam Kerr
Perth Glory
Ada Hegerberg
Lyon
Lucy Bronze
Lyon
Fran Kirby
Chelsea
Amandine Henry
Lyon
Alex Morgan
Orlando Pride
Wendie Renard
Lyon
Lieke Martens
Barcelona
Megan Rapinoe
Seattle Reign
Dzsenifer Marozsán
Lyon
Lindsey Horan
Portland Thorns
Marta
Orlando Pride
Vivianne Miedema
Arsenal
Christine Sinclair
Portland Thorns
Ramona Bachmann
Chelsea
Saki Kumagai
Lyon
Alexandra Popp
Wolfsburg
Caroline Graham Hansen
Wolfsburg
A list of all of the English Women's football players up to 2011 have been added below for reference:
Jeannie Allott
Eniola Aluko
Anita Asante
Elaine Badrock
Janet Bagguley
Debbie Bampton
Angela Banks
Karen Bardsley
Amanda Barr
Janice Barton
Laura Bassett
Sarah Begg
Gail Borman
Sophie Bradley
Samantha Britton
Joanne Broadhurst
Julie Brown
Rachel Brown
Sue Buckett
Pru Buckley
Danielle Buet
Karen Burke
Karen Carney
Frances Carroll
Marie-Anne Catterall
Siobhan Chamberlain
Leanne Champ
Katie Chapman
Pat Chapman
Jessica Clarke
Linda Coffin
Pauline Cope
Alex Cottier
Gillian Coultard
Linda Curl
Michelle Curley
Natasha Daly
Tracey Davidson
Pat Davies
Kerry Davis
Gemma Davison
Liz Deighan
Lorraine Dobb
Becky Easton
Aran Embleton
Vicky Exley
Karen Farley
Kelly Few
Pat Firth
Jo Fletcher
Julie Fletcher
Eileen Foreman
Jayne Frazer
Angela Gallimore
Melanie Garside-Wight
Sylvia Gore
Leanne Hall
Cathy Hamstead
Jody Handley
Maria Harper
Carol Harwood
Kay Hawke
Lesley Higgs (née Shipp)
Stephanie Houghton
Sammy Howarth
Alexa Hunn
Carly Hunt
Theresa Irvine
Lorraine Hunt
Michelle Jackson
Kim Jerray-Silver
Lindsay Johnson
Claire Lacey
Clare Lambert
Sue Law
Alison Leatherbarrow
Tina Lindsay
Becky Lonergan
Sue Lopez
Justine Lorton
Mandy Lowe
Ellen Maggs
Tina Mapes
Maureen Marley
Anne Marshall
Kate Massey
Rachel McArthur
Kelly McDougall
Paddy McGroarty
Janet Milner
Kristy Moore
Danielle Murphy
Jan Murray
Una Nwajei
Wendy Owen
Kirsty Pealling
Morag Pearce (née Kirkland)
Mary Phillip
Isobel Pollard
Sara Pollard
Angie Poppy
Jo Potter
Hope Powell
Tara Proctor
Claire Rafferty
Sarah Reed
Maureen Reynolds
Lianne Sanderson
Alex Scott
Jill Scott
Brenda Sempare
Jackie Sherrard
Karen Skillcorn
Jackie Slack
Donna Smith
Kelly Smith
Sue Smith
Marieanne Spacey
Jane Stanley
Casey Stoney
Dunia Susi
Clare Taylor
Carly Telford
Carol Thomas (née McCune)
Janet Turner
Rachel Unitt
Claire Utley
Carmaine Walker
Karen Walker
Louise Waller
Emily Westwood
Fern Whelan
Faye White
Fara Williams
Rachel Williams
Sian Williams
Carol Ann Wilson
Theresa Wiseman
Chantel Woodhead
Rachel Yankey
Layla Young
Corinne Yorston