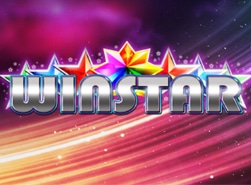 Winstar Slot
Home / Games / Winstar Slot
Winstar slots have arrived at Casino Football! Sit back and enjoy a retro game with Stars symbolising the jackpot win. This Five Reel slot game offers everything that is good about online gaming. The sound effects are great and visually the game is very vibrant and fresh.
The game play offers some great features and winning combinations, such as the "All In View" symbol. The game supports ten pay-lines and operates from left to right. The Return to player percentage is currently at 92.03% which is average for this type of game.
The standard playing card symbols are featured on the reels along with red, blue, green and the special silver & gold stars. If you are lucky enough to fill all of the reels with the Silver Starts in the golden reel mode, then the Progressive Jackpot is all yours. The progressive Jackpot currently stands at over £20,000 ( Twenty thousand Pounds) making this a very attractive game to play. This figure comes from the live lobby on the 10th December 2018 at 11.39am. The figure should adjust every second of the day, so it is well worth double checking each time you want to play.
These types of slot machine jackpots are becoming very popular amongst online and offline gamblers. The chance of grabbing a "Big Win" is assumed as the most rewarding thrill for this genre of game. If you prefer a simpler game then there is always our mobile roulette games to enjoy.
So if you are looking to have some fun and love slots, then the Winstar slot game should suit you. Delve into the world of gaming with Casino Football today, your one place to have fun on the move.